Is it time to panic yet?
By Mal Warwick
Copyright © 2009 by Mal Warwick
Hard to stay calm, isn't it? Not a day goes by without a story surfacing somewhere about how the tanking economy is forcing nonprofit organizations to cut back in the face of rising demand for their services. Surely, it's time to conclude that the sky is truly falling, and all there is to do about it is scream to the heavens?
Well, no. Not by a long shot.
For starters, no matter what the external circumstances, your first responsibility, and your last, when you manage a nonprofit organization is to think clearly about your vision, mission, and values—and stay focused on living them as truly as you possibly can.
Are you fully satisfied that all your organization's resources are directed at programs and policies that fulfill your mission and honor your values . . . or have you inadvertently undertaken off-mission activities over the years that dilute your impact?
Are your highest-impact programs receiving the lion's share of your time and money?
Are you fully satisfied that your resource mobilization activities—marshaling the necessary volunteers, public support, and funding—are calculated to maximize your income in the short run while building a stronger financial base to sustain your work in the future?
And have you taken a hard, cold look at today's chilling economic statistics in historical context?
Consider, for example, the following chart that shows the increase in the Gross Domestic Product of the U.S. in the course of the 20th Century (1908-2007), corrected for inflation.
U.S. Real GDP in Millions of 2000 Dollars
Can you see the Great Depression on this chart? If you know your history, of course, you can pick it out. But at a glance it seems to be only one of several mild dips along the way—merely a temporary glitch in the upward march of the U.S. economy.
Now, I don't want to minimize the terrible suffering occasioned by the Depression—or, for that matter, the awful distress visited on so many families this year, with little or no relief in sight. But it would be a mistake to conclude that, just because the economy shriveled in the 1930s, the country's nonprofit organizations were decimated.
Not so. In fact, the nonprofit sector fared rather well. Take a look at the following chart, which shows philanthropic revenue during the decade of the Depression.
As you look at this chart, your eyes no doubt focus on the years 1931 through 1934. Clearly, nonprofit income dipped during that era, which represented the time of greatest hardship in the Depression. However, the drop from the peak in 1931 of some $15 billion to the trough in 1933 of just under $12 billion was only about one-fifth, or 20%. In the worst economic downturn of the 20th Century, when the stock market lost 90% of its value!
Are today's circumstances different from those of the 1930s? Of course they are. The number of nonprofit organizations is orders of magnitude greater. So is the number of donors. The more than 100,000 charitable foundations in America today dwarfs the tiny number then on the scene. The Internet and email were decades in the future. Even direct mail didn't gain widespread use until after World War II.
Nonetheless, the pattern of giving in every economic downturn of the last five decades has been similar to that of the 1930's: giving declined far less sharply than the economy as a whole. The bottom line is this: during tough times, Americans dig deeper to help those less fortunate than themselves.
Please don't conclude from this focus on the positive that I underestimate the challenge faced by so many nonprofit organizations, especially those that are new, small, and chronically underfunded. Those groups that were living hand-to-mouth last year will probably find this year even tougher. Those that are not single-mindedly pursuing their vision, mission, and values will find donors unresponsive. Many organizations will be forced to merge, some to close their doors. Market economics is harsh. No matter how worthy our cause, no one owes us a living.
But for the majority of the nation's 1.5 million nonprofit organizations, the picture is not nearly so dark as we might believe. It's no time to panic. It's never time to panic!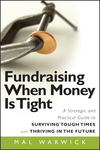 About the Author:
Mal Warwick has been a fundraiser since 1979. He has written or edited nineteen books, including Fundraising When Money is Tight and How to Write Successful Fundraising Letters. Mal is Founder and Chairman of Mal Warwick Associates and Co-Founder of Donordigital (Berkeley, Calif.), which specialize in direct response fundraising. He has taught fundraising on six continents to nonprofit executives from more than 100 countries. You may reach Mal through
www.malwarwick.com
.